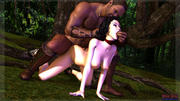 A slightly different take on the classic Snow White tale
(in more ways than one!)
. The lovely Snow White finds a way to escape from the Huntsman which is more than a bit predictable in MongoBongo-land. And it's probably more in line with what those pervvy Grimm Bros had in mind. In any case, it's 18 pics of wholesome fairy tale available at
mongo-bongo-art.com
. And the set is, of course, free for members for the next month!
So definitely inspired by the recent
Snow White & the Huntsman
movie that just came out. Didn't see it. Have no intention to. As much as I like Charlize Theron
(and who doesn't?)
, I simply cannot abide that talentless hack known as Kristen Stewart. Honestly the only thing that bitch deserves to be in-front of is a firing squad instead of a camera. Yes, I am still angry that she stole my $10 when I went to see Twilight.
(Hey! I had to see what the buzz was about. Only reason. Terrible fucking movie.)
Frankly, there is nobody else than can equal her ability to breathe mediocrity and listlessness into even the most basic of lines. And I usually have a great appreciation for terrible actors. I'm a huge fan of Keanu Reeves after all. He does a great job of portraying himself in every role that he does. Sure maybe other actors could do a better Keanu Reeves than he could, but he still manages it with a vague amount of style.
Kristen Stewart on the other hand is just fucking useless. First off, she's not even enjoyable to watch. She has the sort of lop-sided look of a stroke victim mixed with the furrowed brow of permanent constipation. Then of course there is the fact that she can't act. Period. She is incapable of emoting. Her expression is "pissy & petulant" but the words are always deadpan and droning. The only possible comparison I could make would be Hayden Christensen. And while pondering the write up I was going to do for this set
(yes I planned this rant)
, I was gonna suggest that the worst possible movie would be starring those two... Turns out that movie already exists. Seriously.
Jumper
. Amusingly enough I caught the tail end of it on FX last night and was all
"No. Fucking. Way."
. Seems that some casting director has a real sick sense of humor. So yeah, there's my
"Kristen Stewart sucks ass"
rant.
Credits: