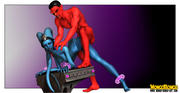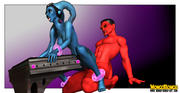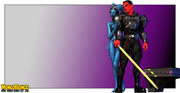 Yay! Another set! Our favorite sexy twi'lwk Vette again. This time getting pounded by her Sith master! All 27 pics of sexy slave abuse at
mongo-bongo-art.com
. And as always, the set is free for members for the next month!
Yup. Vette again. Love rendering her. Not only is she cute, she has no hair so render times are super quick. Which makes things very handy. Now I was originally working on another set that I wanted to release along with something else. But it seems that scheduling wasn't going to happen quite as planned. So I ended up scrambling for something else to make for a set. And thus we have our little blue lovely Vette. From start to finish the whole set took less than three days. Which frankly is pretty damn awesome. Helps to have the character already made, use a pre-made pose set, and have minimal background. If it weren't for posing those lekku (the head tentacles thingies) probably woulda been done in 2 days.
Is anything new happening with
SWTOR
these days? Haven't really taken a look over there in forever.
Credits:
Alice 4.0 by Aery Soul (see
Alfaseed
for similar)
Bioflow by Aery Soul (see
Alfaseed
for similar)
Short Style Hair by Zygote (apparently no longer available from DAZ)