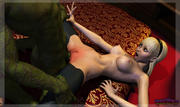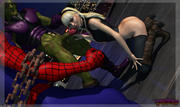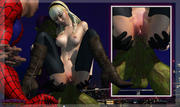 And... the second half of the Green Goblin story. With Gwen at the mercy of Norman Osborne and Spidey to the rescue. Kinda. Sorta. It's 63 pics of web-slinging action available only at
www.mongo-bongo-art.com
. And this is the last free set download for members!
Holy shit. Fucking FINALLY done. Fuck Gwen Stacy. That's all I gotta say. Despite having rendered more pics for this than any other set it doesn't hold the record as the largest. It's cuz of all the insert pics. Each one takes as much time as a full-size pic, but without the bonus of being large. But they are needed in order for the story to make sense in as short a time as possible before getting to the important parts - the pr0n! But at least that's the last of overly large and intricate sets for awhile. Back to slightly more simple and much faster production. Which should make everyone happy.
And in other news, another blog for you to check out -
Red Leather Art
. New artist just starting out, learning ropes of rendering, and on the steady path of improvement. Mostly does the typical fantasy, sword & sorcery, orcs & elves stuff. So drop by and check his stuff out, and give him some kind words!