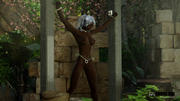 New set from Zen! The continuing adventures of Fae'aria and her well-hung orc lover. Captured last chapter by the Elven Guard, they are taken to the Stormwood Court where we are introduced to a bevy of luscious new characters. The insatiable redhead Queen Izora. Her proud Herald, the green-haired Lady Nyssia. And the dusky Drow slave Naria. All of whom end up moaning and gasping as they are filled with hard throbbing cock. It's 170 pics of epic fantasy erotica at
mongo-bongo-art.com
. So check it out now!
And yes, I do have a new set coming. This month even! And it is a large one. Just been annoyed as fuck at the idiot spammers and the pirates
(Hibbli's set was ripped within 12 hours - not fucking cool bitches)
. So yeah, it's kinda sapped my urge to create. But whatever. New set Monday or Tuesday. And a Vaesark freebie set tomorrow.