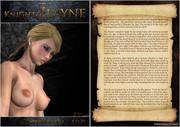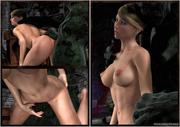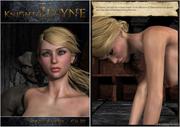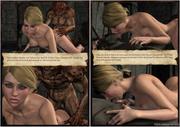 Yet another new artist! Hibbli has started putting things up on the site. Starting with with his fantastic story of Knight Elayne seduced by demons while investigating The Old Chapel. The story comes in super hi-rez PDF format with additional bonus pics, for a total of 104 images of fantasy fun at
www.mongo-bongo-art.com
. All that for only $8! And of course all sales go directly to the artist!
And it's long past time for a movie review. Which is of course the ONLY reason you visit this blog. I mean the pr0n is nice and all, but if it weren't for getting to read my opinions about random shit you'd never bother coming here. Right? 'Course! So Spidey-2.... Not totally enthused by this one. It was an okay movie, it just... well... it's was just "okay". Alot of it probably had to do with the schmuck playing Parker and how they portrayed the character. Just don't buy him as Peter Parker. He's supposed to be a science nerd turned super-hero, not some goofy skate-boarding douchebag. And hate to say it, but think Tobey Maguire did a better Parker. So over-looking that assclown, let's get to the rest of the movie...
The whole plotline seemed a bit jumbled. They spend a ridiculous amount of time developing the Electro character, but in the end he's just a side character. Cuz in the last third of the movie, BOOM! here's Harry Osborn the Green Goblin, aka main villain of the film. So yeah. That was just weird. And of course, there's ALOT of time spent with the whole Gwen Stacey relationship thing. Which is important to the story, no doubt. It's just that they way they played it, it felt more like I dropped a few bucks to go see a romance comedy/drama
(which tbh is NOT something I generally spend money on)
. I guess they were using that as Parker's eternal struggle between balancing real life and being Spiderman. Except that it never seemed he had a life outside of being an emo Gwen-stalker and doing the Spiderman thing. I mean supposedly he's a college student, but I don't recall him going to school or even studying. He was just a sobby faggot and then went web-swinging. Meh.
The villains were just "meh" as well. Jamie Foxx isn't a very good actor to begin with. Combine that with the drastic re-imagining of the Electro character and it just kinda fell flat. Didn't do nearly as well as they did with Nick Fury / Samuel L. Jackson
(though in that case, he did have the benefit of the Ultimate Marvel storyline)
. But overall Foxx/Electro was just a crappy side character. Nerdy guy becomes always angry super-villain. Didn't work for me. And then Green Goblin was just... well he was just suddenly there. First he's Tobey Maguire's evil twin, and then with some mussed-up hair he's The Green Goblin. And he's always inexplicably angry too.
But other than that, the special effects were pretty cool. Great camera work. So that was nice. And the big important thing.... they didn't pussy out. Was totally expecting them to bitch out and do the happy ending. Nope. They stayed true to the story. And for me, that made it go from a crap movie to an okay one. So yay! Will obviously have to do another Spidey set sometime soon-ish.