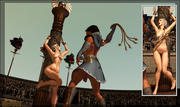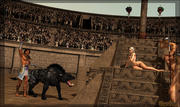 Daenerys Targaryen attacks Meereen, without trying the whole slave-revolt thing... and fails miserably. Captured and enslaved by an atypically cruel Hizdahr who decides channel his inner Ramsay Snow (the sausage guy). It's 44 pics of Fighting Pit action at
www.mongo-bongo-art.com
where you either win or you die. Well ok, it's not QUITE Ramsay-level, and nobody really dies, but there is still plenty of sex. And of course the set download is free for members for the next month (or there-abouts).
Yeah ok, this 2 weeks per set shit needs to stop. Like now. Everybody like a big set, but holy fuck this is taking too long. Somebody remind me to think small. Geez. So besides it taking too long, it still came out pretty well for my tastes. Little known fact - this was actually how the story was supposed to play out. RR Martin was totally collabing with me on the plot and stuff. And then he pussed out. Tru story! Really!
And in other news, Epoch's new set
Wish You Were Here
was just released the other day. Definitely some good shit! The plot/content is a bit vanilla in comparison to my stuff, but the quality is fucking fantastic
(as always!)
. And honestly, checking out a bit of good, wholesome, boy/girl, completely consensual sex would probably do you perverts some good. And it's only $8 which is a huge steal!

And another artist to add to your list -
Hibbli
. He does similar stuff as mine. Hot chicks and monster sex. And has some
sets for sale
over at Affect3d. So definitely check those out as well, if you haven't already.
And also
Bad Wolf
. He does mostly pin-up work with sexy hotties. So drop by and take a gander at his stuff too.
Credits: