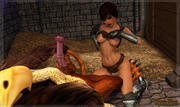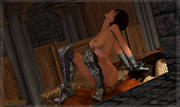 Slutty knight Lady D'Clairmonte conquers yet another vile beast - the dread Gryphon. Except this time it's a fellow knight's steed. It's 42 pics chivalrous knightly romance and Arthurian legend at
mongo-bongo-art.com
. And members get knighted with a free download of the set for the next month-ish.
Holy. Fucking. Shit. That just took way too long. I'm very pleased with the way it came out, but ermagawd did it take forever. If it wasn't my wee little laptop crashing, it was renders just taking shittons of time. Many times I just wanted to trash the set and start over with something different. Glad I didn't. Cuz nobody can take huge cock like Lady d'Clairmonte can!
And to be honest I was also in a funk for the past week. For we lost not one, but TWO noble and valiant souls. Shining lights snuffed out before their time. Yes, I speak of the foul foul murder of kinda and just King Geoffrey. Slain by the sinister hand of a duplicitous and hateful dwarf. Oh woe! Woe is us!
(Silence! No spoilers of upcoming episodes!)
And also the superior Dr Octopus was cruelly defeated by the selfish and conniving Peter Parker, who stole back his body from poor humble Octavious. Again, woe! Woe is us!
Credits: