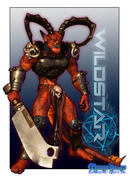 So since the next set is being a complete pain in the ass with lighting and render times, figured I'd give you some snacks to tide you over. Just some random character concepts and set ideas I've been playing around with. Some recent, some from awhile ago. Obviously the Wildstar stuff is recent. Duh.
And since I've been dicking around with the
Wildstar
Beta weekends, figured I should probably give you my first impressions of it. The theme is magical space cowboys vs. galactic church nazis with some pirates and ninjas thrown in. Yeah it's very tongue-in-cheek and silly. As far as the game system itself, well.... basically it's a WoW clone with a nifty targeting system. To me, any themepark game is pretty much a WoW clone. It's got the standard leveling system and level cap. Standard structured classes. Standard questing and experience system. Standard level-specific resources & crafting system. And other than the targeting, standard combat system. So yeah. For me it was a bit of a let down. Don't get me wrong, it's still fun, silly, entertaining, and definitely playable. I'll definitely be spending some time playing it. I was just kinda hoping for something on the level of EvE
(without the douchebaggery)
. It's nowhere near that level of complexity or detail. But if you liked WoW, then you will like Wildstar. Cuz it's definitely a step up in most regards
(gotta give the nod to WoW's depth of lore and story though - but it has been around ALOT longer)
. Keep in mind though, my Wildstar experience is only up to lvl 17 and is fairly limited. This is only a first impression. Probably a hell of alot more I haven't seen yet.