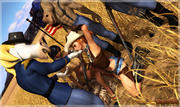 US Marshall Caleigh McClintock tries to save Squaw Girl from the depredations of some uncouth Cavalry soldiers.... with predictable results. It's 21 pics of accurate western history at
www.mongo-bongo-art.com
. And of course, members get the download free for the next month or so.
Welp. Totally intended to post this up on Friday. But instead decided to get the stomach flu on Thursday and have spent the last 4 days feeling like utter shit
(no pun intended)
. So yeah. That was alot of fun. Still not feeling 100%, but at least I can make it into the "studio"
(ie. rented office)
rather than being house bound. So that's a plus I guess. Enjoy. I'm gonna go get a bit more rest.