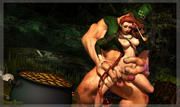 Happy St Paddy's Day! Hottie redhead ranger Bronwynne chases a rainbow to find a pot of gold and monstrous well-hung leprechaun! It's 33 pics of St Paddy's goodness at
www.mongo-bongo-art.com
. And as always, the set download is free for members for the next month or so.
There is not much to say, about this set. I mean other than the fact that it's a horrible stereotype of Irish myth and culture. But besides that, the set went pretty damn smoothly. SSS and lighting worked fine. Poses and postwork were fine. It was just all around a nice change of pace. Me likey! Ah! One thing - obviously went old-skool and bring back The Troll. Remember when 3d pr0n artists used him for EVERYTHING. Poor guy never gets much action anymore. Poor troll.
And in other news, Epoch released the first of his new Dossier series yesterday -
Ember's Game
! But I gotta warn you, it's not like his previous stuff... it's SO MUCH BETTER. Seriously, it is fucking awesome! Take everything you love about Epoch's art, and then crank it up to 11. Easily his best work to date. And I don't say that lightly, cuz he has done some kick-ass incredible shit. But this blows that all away. Even more fantastic-ier render quality, Ember is OMFG hot, superb expressions, good flow. Oh! And it has Lens Flare! If you liked JJ Abrams Star Trek movies then you will love this! Well actually maybe not, cuz Epoch's lens flare is actually subtle and you can still see the scene. But it's there, and it's awesome. All in all, it's just plain a great set. And while I always highly recommend folks check out Epoch's stuff, I super-double triple-dog recommend this one. And it's super cheap at only $7.99! You. Should. Get. It. Like all his recent stuff, it uses his DCV viewer set-up. So be sure to keep an eye on the nav-bar for additional angles of the same pic!
Also, if you may recall I mentioned an up and coming new MMO a while back -
Wildstar-Online
. Well they finally have a release date for it! Looks like the game will be live on June 3rd. And if you are as super excited about this as I am... well you probably already know all this. But for those that are just kinda apathetic and/or mildly interested, you can pre-order it on March 19th.
Credits: