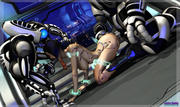 Sexy cyborg cop Ryoko investigates a hacking attempt at EroTech Labs and ends up gettign gang-banged by pleasure droids! It's 28 pics of robotic shenanigans at
www.mongo-bongo-art.com
! And, of course, site members get the set download free for the next month(-ish).
So finally got around to finishing this one. Been taking it easy for the past week or so. It's my version of a holiday vacation since I was busting my ass last month. Relaxation is nice for a change. In any case, was playing around with some new stuff in this set. Of particular note is my first use of Indirect Lighting for an image - it's the opening pic. Still not sure how I feel about it. It does make things alot easier by not having to place lights and just letting the ambient nodes handle stuff, which is super cool. Downside is that it can produce some blotchiness unless I want to deal with massively long render times
(which I don't)
. So still pondering the further use of it.
Not much else going on at the moment.