First of two links for your perusal and entertainment. Another 3d artist blog! Featuring the erotic works of Aussie artist JimJim, who specializes in huge titted hotties taking it hard and rough from loathsome monsters and occasionally other more mundane critters. With both consensual and non-con scenes. So drop by and take a gander. Look to the Download Bar on the right side for easy access to the full sets! Also, here's some spoilers from an upcoming set on his blog.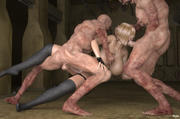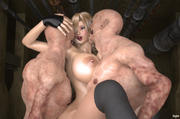 And the sexiest for last! I've been remiss in mentioning Jenny's new blog! Bad me! It's chock full of the sexy model shots that we've come to love so well. So meander on by and check out what's going on with our favorite Canadian bombshell. And be sure to drop her some comments and love
(without being weird and stalker-ish!)
.