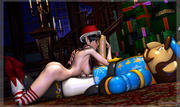 Happy New Year! Our second Mynxie set for the year
(uploaded with bare minutes to spare!)
. The stalwart Nutcracker saves Mynxie from the clutches of vile Mouse soldiers. And she is all too happy to bestow upon him the reward due to every great hero! It's 27 pics of post-holiday cheer at
mongo-bongo-art.com
. And for the next month or so, members get to download the set for free
(just like always)
.
Not since the
Burger King commercials
have we seen something quite so creepy as the Nutcracker. But he is heroic and awesome, and fitting with the holidays. If you're scratching your head about the Mouse guys in the first pic, then you are an uncultured plebeian ape and should read up on the
Nutcracker plot
. Geez! Also was originally gonna use a Christmas tree in the set. But every one I tried took FOREVER to render. Too many over-lapping transmaps. So we got a present pyramid instead!
Credits:
Alice 4.0 Faerie by Aery Soul (see
Alfaseed
for similar)