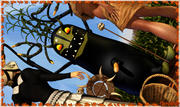 Happy Thanksgiving! In her on-going adventure to prepare a holiday meal, Pilgrim Girl and her new friend Squaw Girl accidentally anger the Great Corn Spirit. It's a 31 pic set to be thankful for at
www.mongo-bongo-art.com
. And of course site members can download the set for free for the next month(-ish).
So now you know where creamed corn comes from. Just keep that in mind. And who knew vegetables could be so dangerous? And yes, I know the monster is kinda corny
(*groan*)
but whatever. :-P ... Anyway, this set was a surprising pain in the ass. The original leaf cover I was using was locking up Poser for some bizarre reason. No idea why. Finally gave up and re-did it as a texture overlay for the ground. Lost a bit of depth, but it render a fuckload faster.