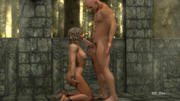 Because colossally huge sets are just plain awesome, we have a new one from Zen! It's part one of an epic tale of mystery, ancient evil, corrupt rulers, and a whole lot of sex. This time it's 79 pics of the gorgeous Jalinn and her redhead friend Aria being violated the vile Baron's overly endowed henchman. And it's all available at
mongo-bongo-art.com
. Members get the download at half price and all the sales going directly to Zen.
I could do a paragraph of telling you how incredible Zen's set is, but why bother. Just look at the pics. Quality shit. 'Nuff said.
And in other news, I should probably have finished another set by now, right? Well I would, if continually filling out DMCAs weren't fucking killing my soul. It's not that it takes a particularly long time to hunt the shit down and send out the notice. It's that afterwards I just end up feeling no particular desire to render. Which sucks. Instead I've been dicking around with
Shadowrun Returns
. You can pick it up off of
Steam
. It's a mildly amusing, X-Com style, turn-based game. Good story, simple interface. Was funded thru
Kickstarter
, though with $1.4+ Mil in donations you'd have expected a bit more out of it. But it still works. Was done by the guy who actually designed the Shadowrun PnP game
(and he also did MechWarrior and a bunch of other stuff, who knew? not me)
, but if you expect it to religiously follow the Shadowrun rules you'll be sorrily disappointed. Shotgun is the One Weapon to Rule them All. Just make an Elf with a ridiculously high Quickness, Ranged Combat, Shotgun skill, and Dodge. Easy mode. The game is more about the story anyways. Gameplay / combat itself is just a vehicle to move the story along and transition from chapter to chapter. Unfortunately once you complete the game, there's not alot of replayability. Convo choices don't really matter, all roads lead to Rome. Once again looking back at that $1.4 Mil and wondering how a writer couldn't have spent a week doing more path choices, while coders and level designers were busy. Whatever. So why am I droning on about this? Because while playing I did some Rule 34 research. And was shocked to find that there is practically
zero
Shadowrun porn. I shall have to remedy that in the near future. And that was the point of this rather long paragraph.