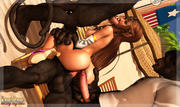 Because nothing says "summer" like a pair of drunk slutty video-game princesses getting gang-banged in a tropical paradise by Diddy Kong and his tribe of surfer monkeys. Right? I mean I think I read that somewhere. Whatever. In any case, it's 28 pics of vacation fun at
mongo-bongo-art.com
. And members get the set download for free for the next month or so.
OMFG my eyeballs hurt. Bitches hair was a poser artifact nightmare.
(Poser artifacts are little black dots that show up in the render process that occur for a variety of reasons - in this case polygon smoothing on a transmap surface.)
Shit ton of postwork correcting. I'd hate these digital vixens if only they didn't look so damn hot. Also remind me not to do orgy scenes in the future. Posing hell trying to get all the body parts in the right position while, at the same time providing a decent camera shot. Ugh. But end result always makes it worth the effort.
And my faith in movies has been somewhat restored.
Kick Ass 2
. Decent movie. Not quite as good as the first one, but still entertaining. Obviously, if you didn't like the first one, you're not gonna like this one either. But I did. So there! Never read the comic so no idea how closely it follows. Downside of the movie was the cliche high school shit. But overlooking that, still decent. Kick Ass actually got to kick some ass which was fun.
Night Bitch / Lindy Booth
is yumm! Jim Carrey was completely unrecognizable (which is a good thing). And the
Hit Girl chick
is going to grow up to be unbelievably hot in a few years.
And in other news,
Renderotica
has decided to commit a long and painful process of ritual suicide. If you haven't been by there in the past week or two, they have undergone a massive image and website change. Which would be a good thing.... if they actually tested it beforehand. Apparently they didn't, cuz shit is just all fucked up. Some of the stuff is definitely good. They finally started displaying thumbs of their Premiere Gallery - which was something I had been suggesting years ago when I still hung out there
(before I realized that for the most part they are a insular clique of circle-jerking neckbeards and freakish old women - not bitter :-/)
. 'Course their Premiere still suffers from the same problems it has for years - too much of it is worse that than the average free gallery submission. Don't get me wrong, some of the artists are fucking amazing. Others... not so much. And it really should be "best of the best" in there. A purging should have been done a long time ago.
Unfortunately there is a cloud within the silver lining of the new site. They decide to institute some sort of weird ass limited view count system to the galleries. The "free" galleries. So you can only view so many images a day. Want more? Well then friend *greasy smile*, you can just buy more image views in our store for the low low price of some fee. Yeah. So not only do they want to fuck over artists by charging for gallery space that provides the material that draws folks to the site. They also want to gouge the visitor to the site as well. Brilliant! That will surely build a strong and vibrant community! ...Fucktards.
Not surprisingly,
Affect3D
is circling above eagerly watching as Rotica's walking corpse shambles along to it's inevitable demise. They've already expanded
their store
with
Merovingian's new release
, cutting into Rotica's traditional niche. And they've made pitches to other artists as well. So should be interesting to see how it all pans out over the course of the next year.
Credits: