So as I'm sitting here pondering how to go about this rant, I am munching on some Arroz con Leche (rice pudding). Which is frankly an amazingly tasty snack. Just rice, milk, egg, cinnamon, and nutmeg. With no real redeeming nutritional value. But so damn tasty. Why does this matter? Because it eases my piece of mind. Which is important when dealing with something so offensive as the movie that is Elysium. Right. So lets get this done.
So the movie is pretty much just a redo of District 9. But instead of being a thinly veiled metaphor for apartheid, it's an obvious diatribe on immigration, with a healthy dose of economic inequality, class warfare, healthcare issues, and racism. Basically it's a shitty political propaganda piece. And regardless of whether or not you agree with the politics involved, it's just poorly done - because it's just so fucking blatant and in-your-face. Now my major beef with movie is the overt racism, so let's start with that.
If you are brown, you are poor, downtrodden, kinda flabby, and basically living a shitty life. That is the basic premise of the film. But don't worry, because some awesome white person will be there to save you. Cuz y'know, you couldn't be able to fix your own problems or anything - being brown and all. No. You need whitey to save you. Fortunately he won't be one of the evil white people. I mean sure he will be all buffed out and beautiful like every other white person in the film
(unlike you who are brown and flabby)
, but he'll still be "good". And he will be one of the only two whiteys living in the same conditions you are, so he can empathize with you
(the other one is a violent sociopath... of course)
. In any case, the good whitey will sacrifice everything he has to make your life better. Cuz he's like a martyred messiah and shit. Just like Jesus. Who was also white.... Right. Ummm. Fuck off? How about we NOT continue perpetuating decades old bullshit and stereotypes that just keeps making racism worse?
Then of course there is the whole class warfare and economic inequality thing. Which is also smothered in racism. Cuz heaven forbid there ever be a successful brown. No, they are all white
(baring a one or two token uncle-toms that only serve to emphasize the racial inequality)
. And they are all evil. Cuz when you are successful, you become evil and uncaring and oblivious to the outside world. That's just how it works. You just basically become an American. Or at least how these jack-asses view it. Again - fuck off.
And let's not forget the immigration thing. All these people need to do is to get to Elysium and somehow their lives will be better. I mean sure, they won't have a job or place to live, but their lives will be peachy once they get there. Just like our female lead in the film. Suddenly at the end of the movie she is smiling and well dressed in the clean beautiful sunshine. Cuz that's just how it works. You immigrate and your life gets better. I mean why bother to fix the place you were living before? Oh, that's right. Cuz only white people can do that for you. *sob* Fuck. Off.
Then of course there is Elysium healthcare. Free magical cure-all-illness healthcare that is like a microwave in every home. Let's just ignore the fact that Earth folks can apparently do neurosurgery while stoned in a filthy chopshop. And probably a whole fuckload more if they actually applied themselves. But why bother when we can get it from Elysium? It costs nothing, and yet those evil people on Elysium are keeping it all to themselves. Why? Cuz they are evil! They have the energy to put them in every fucking household, and to fly shuttles up and down with nary a thought, but nobody would ever consider giving it to the brown people on Earth. No, no. Because hyper-capitalists would never want to sell something to a HUGE planetary customer base. Especially not something that would make them better and healthier workers, that could make more money, and the capitalists could sell them more shit. No. Cuz that's not how real capitalism works. Real capitalism works the way it does in the movies - bad rich people hoard all the money for themselves. And real-life healthcare works the same way. It's like free and stuff, but evil corporations just make it expensive cuz they hate people.... FUUUUCCCKKKK!!!!
Oh but wait! There's more! The military and police. It's a well known fact that everybody in the military is bad and plotting to seize control of democratic institutions at the drop of a hat. But what can you expect from a bunch of gun-toting baby-killers? It's just the way they are. It's the only reason people ever join the military. Cuz they hate freedom and want to oppress people. I know, I saw it in a movie! Oh and police brutality. When it happens to good people
(like our dreamy Matt Damon Jesus)
it's bad and horrible and wrong. But when it happens to people we don't like
(like at the end of the movie)
it's funny and justified.... Just... yeah...
And then like I said before, it's the same movie as District 9 all over again. Director didn't really step out of his comfort-zone for this one. Same damn photo techniques. Filmed in the same damn junkpile. Hell it even has the same damn actor (Sharlto Copley). Though this time he is the psycho South African villain. Cuz apparently South Africans are the new Nazi. Go figure. Anyway, I'm not really a big fan of Neill Blomkamp (the director) now. Shit was just too crude, ham-fisted, and derivative. So fuck him. And fuck Matt Damon. Jason Bourne, you are dead to me.
Ugh. Okay. Rant over. Moving along.

And in less controversial and ranting news, have another artist site for ya.
Hibbli
! Has been around for awhile. Does mostly fantasy. Caught my attention awhile back with some pics of a dark-haired hottie and orc in a tavern. Definitely worth checking out. So drop by and take a look.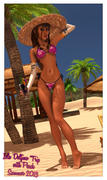 So was also working on the next set. Realized I hadn't done anything very "summer-ish". So that had to be remedied! Peach and Zelda's summer vacay!