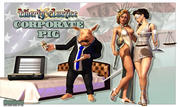 Liberty and Justice take corporate money and become whores for Pig Business! Big Pigness? Whatever. It's 23 pics of pornographic political commentary at
www.mongo-bongo-art.com
, and just in time for your 4th of July hangover! And of course, the set download is free for members for the next month-ish.
Porn and politics. Two great tastes that taste great together. Right? Figured since it was the 4th, I'd do something with my long-neglected Liberty and Justice girls. And since I hadn't used the Frankie pig-guy before, it all just sorta meshed together perfectly. Amusingly enough, I'm actually kinda pro-business, and probably the last person to go railing against "the evil corporations". But the theme worked too well to pass up! And reckon some of you are filthy anarchist hippies that would probably like it. :-P
For those of you who don't know, the USA celebrates the 4th of July as our second major BBQ-day of the year
(the first, of course, being Memorial Day)
. Oh, and a few hundred years ago some power-hungry extremists riled the disenfranchised rabble to engage in terrorism and stage a coup against the rightful government... Or was it some noble visionaries fighting for freedom against an over-bearing tyrant? Suppose it depends on what spin we are going with. In any case, 4th of July is our Independence Day.
'Merica! Fuck yeah!
In other news, went to go see the new Lone Ranger film in hopes of getting some inspiration for another Caliegh / Western set... I did not receive much inspiration. It was surprisingly lackluster and dull. It's your standard Western revenge tale, but without the vengeance or anger. Which basically just leaves the story with a pointless plot motivation that tediously drags along until the thankful end of the film. Wasn't highly impressed. Would not recommend. Maybe
giant Robot Godzilla ripoff
will be better? LOL.
And been eyeballing a new MMO -
WildStar Online
. Still in Beta, scheduled release later this year. To be honest, I don't think it's going to be a super-fantastic game. Looks to be your standard WoW-clone, but with a sci-fi bent and few more bells and whistles. However, the marketing for it is pretty damn funny. Check out some of their videos, it's good stuff. Plus the art is decent, and they don't seem to take themselves seriously at all. So might be worth some casual relaxed gameplay.
Credits: