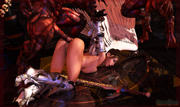 Serra Angel heads to Hell to do battle with Evil in the best way she knows how! Defeated and chained by a pair of demons, she writhes in forbidden pleasure thru 34 pics of heavenly goodness! And only found at
www.mongo-bongo-art.com
! Members get set download for free for the next month (or so), cuz they are special and awesome.
Yay! Finally got around to doing this set. And of course what was going to be a quick-off 20 pic set ended up being 34. Whatever. Self-control is for pussies! Right? Whatever. So was going to try and do some PP2014 bullet physics in this set (breast squish, etc). Didn't seem to work though. Her tits kept falling thru the floor and the beasties hands. So gotta go back and try and figure that out. Cuz I know it can be done, I was just missing some setting. In any case, the morphs seemed to do the trick just fine.
So as some of you may have heard, Blogspot is doing a
crack-down on adult sites
starting tomorrow. And despite much over-reacting and stress by many, there's really not that much to worry about. They are just cracking down on sites that do adult-advertising and link to money-making adult-sites. So very few blogs in our little circle are going to be affected. In fact, the only one that really stands a chance of getting targeted is mine.... Ok, so maybe there is something to worry about. Time to make another back-up!
(Really though, odds are they only targeting folks who are using sidebar graphics ads and that sorta stuff.)
And in other happenings, I bring you news of yet another 3d artiste - the ever talented Nova. He has
like a site
, and stuff. You may recognize him from his great
Vanya sets
, or his Gamer Girls series. Or possibly from seeing him reviewed... repeatedly... over at
Affect3d
(seriously he's challenging BlackAdder for ridiculous amounts of coverage - me jealous much? yeah maybe)
. Really though, go check out his site. It's all professional and nice, and you can buy his sets.
And speaking of site links I changed up my enormously long banner sidebar. Finally got around to setting up the sidebar to randomize and post a reasonable number of banners. I figured it out and scripted it up all by myself, cuz I'm a big boy!
(Yeah, I know, it's shitty archaic code - I ain't no programmer)
But all the links are in there, it just randomizes on each page load. And if you need ALL the banners, then you can just go to the new and exciting Links Page
(so exciting!)
.
Credits: