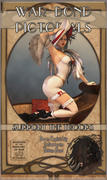 Ace pilot Emily Peabody is back at it serving for Queen and Country. It's 36 pics of wholesome Ministry-approved Steampunk adventure! Available at teh paysite -
www.mongo-bongo-art.com
. And, as always, site members get set download for free for the next month-ish.
Oops! Kinda forgot to make a post for this after uploading it in the wee hours of this morning. 'Course that might be cuz I was knackered (such a funny Brit-ism) from working on it for like 20 hours straight. Yeah, the usual -
"ZOMG! Let's add moar!"
. The two days I spent rendering out background pics that I decided not to use after all
(it looked like shit)
probably didn't help. But it's done. Now to FINALLY install PP2014 and see how it works. So exciting!
Oh and you may have noticed a slight change in hair color. Figured she looked a bit better as a dirty blonde, and suits the whole dashing English pilot cliche. Though I suppose "dashing" isn't the right term for women. But whatever. You know what I meant.
And in other news it seems there is quite the hubbub over the mysterious disappearance of our Jenny. Seems all the images from her dA page have vanished, she hasn't responded to emails, and her Twitter has been silent for a week. What has happened to Jenny? Inquiring minds want to know! So in the style of great news reporting agencies (like Fox News!) I am starting
EXTREME JennyWatch 2014
! So if you know what's up, give a shout out.... In all seriousness though, hope nothing has happened.