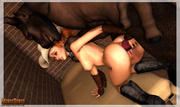 US Marshall Caleigh Clinitock is keep the Old West safe again. Arresting a drunk bull Mariachi and letting it have it's way with her. Cuz that's the way things worked back then. It's 28 pics of accurate western history at
www.mongo-bongo-art.com
. And of course, members get the download free for the next month or so.
Fucking postwork. That's gonna be my mantra from now on. Finished 5am this morning
(yes, pulled an all-nighter)
. Then looked at the clock and said
"Fuck it. I'm going to bed."
Wasn't about to spend another couple hours doing all the code, uploads, and other administrative bullshit. But it's done now. So yay!
Oh, and did some cursory checking into that weird CIA link. Seems that shit has been around for YEARS. Saw a reference from 2009 about it. And was the same thing for them, links back to an encrypted page. Curiouser and curiouser.