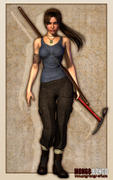 Some test pics for the Tomb Raider set I'm working on. So of course, Lara. Turns out my old Lara model wasn't very far off from the new Lara. Just some minor modifications to make her face a bit younger, deflate her boobs, and widen the hips. So that was nice. Was originally gonna use the Samurai guy, but after the fantastic suggestion by Cannon, ended up going with the rape scene + wolves. Wolf came out a bit too dark, so think I'll go with something a bit more brown/grey. Also a side note about the Wolf, it's quite possibly the only decent wolf model for Poser/Daz. It's by the same guy that did the Polar Bear for the Groknar set - but the fur is far more manageable on this one. Still takes a hell of alot of time to render
(2 hours for that pic)
- but at least it renders. And the Lara/Peach pic. Yeah bizarre and utterly random. Somebody asked for it awhile ago, so figured
"what the hell"
doing test pics anyway. :-/ ... Oh and I think I said something about including Zergling test pics. I lied. Ha! Whatcha gonna do about it? Bitch.
(Actually I just didn't get around to working on it. Too much Lara. Mmmmmm.)
What else? Ah! Something I was gonna mention a few weeks ago. While waiting for the K'rikka pics to render I had been bouncing around looking at various 3d pics on teh intrawebz. And came across some Darth Talon stuff. Now I had only the vaguest idea of who she was, other than a slutty twilek ripoff of Darth Maul. And really, what more do you need to know? But seeing as I had NOTHING else to do since my main/gaming comp was chewing thru renders I figured I'd look up who/what she was. Turns out she came from a comic called Star Wars: Legacy
(which most people probably already knew - but I didn't - and that's the only thing that matters!)
.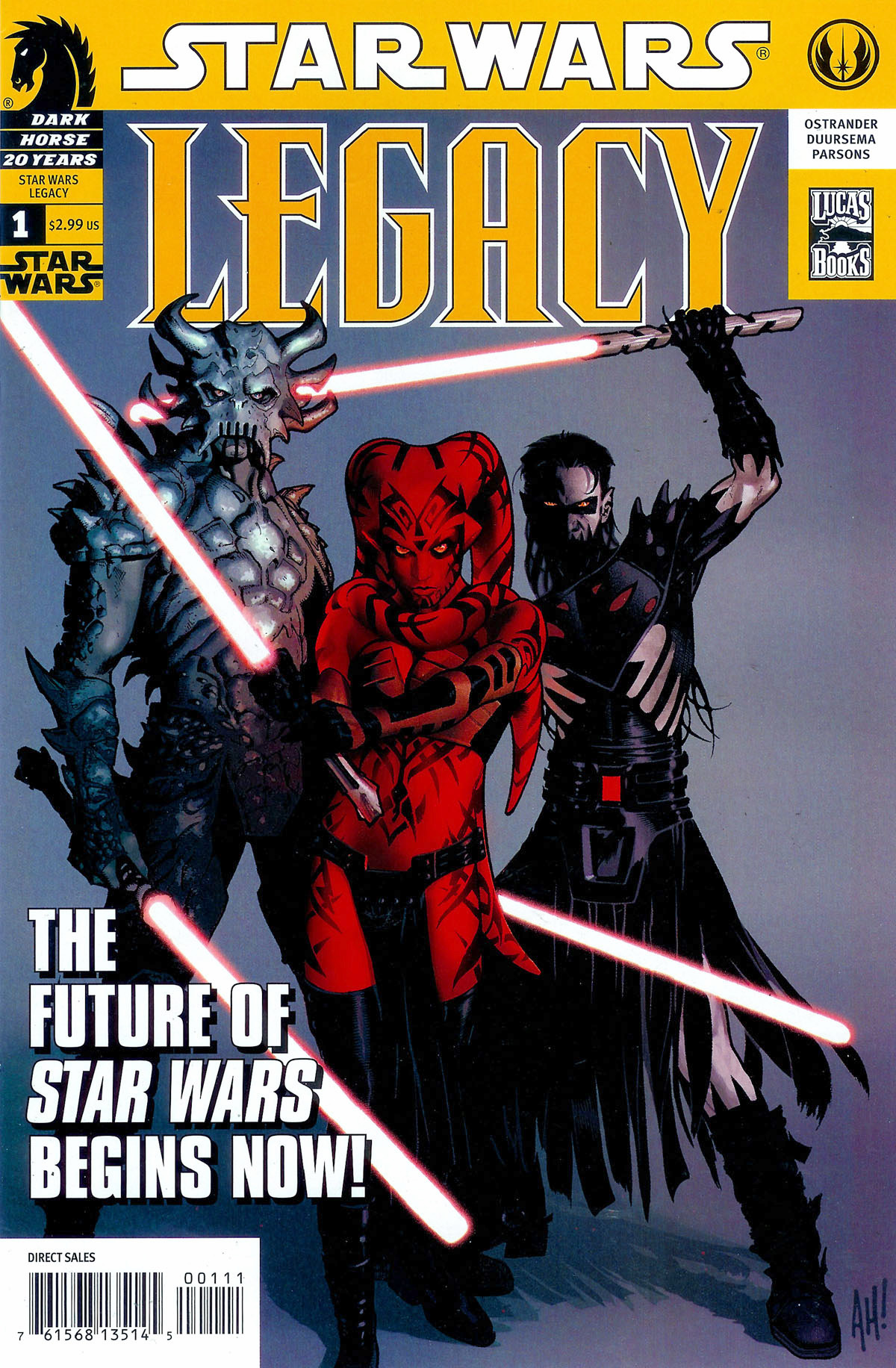 Dropped by
Dark Horse Comics
and it turns out they have the first issue free on their website. Checked it out, and instantly got hooked. Despite my general low opinion of Star Wars Expanded Universe stuff
(most of it reads like shitty fanfics)
, Legacy was actually pretty damn good! Sure there's some silly stuff like people constantly jumping over each other and holding conversations while floating upside down - but all in all it's good shit. So if you are an ignorant savage like I was and never read it, then I suggest you give it a shot. Normally I'd recommend that you get the digital copies from Dark Horse. But you don't actually get to download a copy of the comic from them. You just get access to viewing it.
(I know, the irony is palpable.)
And since their digital copies are at the same price as a paper comic, you might as well just go buy the trade paperbacks
(or hang out in your bookstore and read them without buying - my favorite when I was unemployed)
.
And in other Star Wars related news, Clone Wars got cancelled last week. Apparently Disney
(they own the Star Wars franchise now)
has decided to focus their efforts towards an Episode VII. Which thankfully will NOT be based on the Timothy Zahn novels
(a prime example of shitty SW fanfics btw)
. Mara Jade? Seriously? Could you make a more annoying Mary Sue? But I digress. LucasFilms claim they will still do some web-isodes or something like that to give a conclusion to the Clone Wars story. Hopefully they will, cuz Clone Wars was getting pretty good towards the end there. Darth Sidious fight was freaking epic. And there was some pretty harsh shit going on -
"Look here's your girlfriend. *STAB* And now she's dead. Haha!"
. 'Course if you gave a shit about any of this, you probably already know. But I like to pontificate. Deal with it.
In any case, since I've got a bit of the Star Wars bug, odds are I'll do some sort of set in the near future.