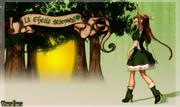 Our favorite redhead ranger Bronwynne visits the forest folks' annual Shamrock Festival. And ends up taking a good hard gangbang from all the Tree people. It's 27 pics of slightly-delayed St Paddy's celebration available at
www.mongo-bongo-art.com
. And the set download is free for members for the next month (or there-abouts).
So hope everyone had a good St Paddy's day. Here's a little something to keep the celebration going. Or something like that.
Hmmm.... This is looking kinda of bare. Normally I have much to pontificate about, and burden you with my opinion. Oddly not so much today. Weird. Ummm... My internet has been problematic at my studio and is annoying the fuck out of me. So there is that. Let's see... What else? Guess I could give you a vague inkling of what I have in store for the next couple weeks. I mean I already have, but I suppose I could be more specific. Some folks like that. Next week is Tomb Raider with the new Lara
(who honestly I like ALOT more than the old Lara)
and one of the Stormguard Oni Samurai monsters. Then figure some Starcraft action with Nova and Kerrigan and a few Zergs
(will have to post some WIP pics of the zergling later this week)
. And then of course some Game of Thrones action with Dany and her dragons. So you can toss me some ideas of what you'd like to see in the sets. Might use it, might not.
Credits: