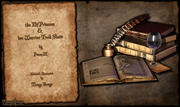 Now for something completely different... An illustrated story! It's 21 pics of fem-dom fun at
mongo-bongo-art.com
. And the set is, of course, free for members for the next month (or so)!
So a couple months ago, got an e-mail request for a commission. But since I don't even have time to sleep, I suggested he pitch me the idea for me to use as a set. And the idea was an illustrated story, along the lines of what Vaesark has done in the past. But not just any story, a fem-dom story. And since it was the opportunity to do two new things at once, couldn't pass it up. And now we got a nice little tale that will surely make your wee-wee shrivel up and hide if you are insecure about your manliness.
Yeah, yeah, I know. Fem-dom isn't to everybody's taste. TBH it's not even something I'm really into
(think most of my sets are a pretty good indicator of that)
. But it's nice for a change of pace from time to time. So take it all in stride. Don't get too attached to it though - not likely to see more anytime soon.
And if any other aspiring authors out there wanna try something similar, don't hesitate to give me a yell.
UPDATE
Here is a hi-rez copy of image #6 for those that got the corrupted copy. Re-uploaded the RAR file, so it should be all good for new downloads.