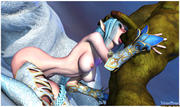 Between the time when the oceans drank Atlantis, and the rise of the sons of Aryas, there was an Age undreamed of. Hither came Groknar the Ork, cock in hand. Destined to wear the jeweled crown of Orkilonia upon a troubled brow. It is I, his chronicler, who alone can tell thee of his saga. Let me tell you of the days of high adventure!... It's 40 pics of classic pulp adventure only available at
mongo-bongo-art.com
. And the set download is free for members for next month(-ish).
Holy fucking shit. FINALLY done. I'm gonna go get some sleep now. I'll fill in the rest of this later.
UPDATE 2/5
-
(more like random babbling, but w/e)
And to think, this set could have taken even longer. LOL. So first came up with this idea when I was playing around with the fur on Mynxie
(on her clothes! geez you people)
. So I had this idea of
"ZOMG! Fur on a Polar Bear or Seal! Or both!"
. So tried it on a bear figure I had. It was horrible. So looked around and found AM's awesome grizzly bear. The fur was perfect!... Too perfect, in fact. Took forever to render. You think Aery Soul hair is polygon intensive? That shit has nothing on this grizzly fur. I could barely even move the camera around in preview mode. Sure, the model comes with a warning that it requires a robust system. But who really pays attention to that? Besides, my laptop is a robust system... right? Yeah, I need to get a desktop. And of course the fur idea didn't quite work out for the Seal either. So we got to do "Adventures with Bump Mapping". Which after a bit of work came out rather acceptable.
Let's see, what else can I babble at you about?... Jenny! Because our little 3d render circle-jerk would not be complete without MOAR Jenny. So our good buddies over at Affect3D did a
little interview
with her last week. So check it out, some amusing drama in the comments section as well
(plus more over on Zzomp's blog)
. And really you should check out
Affect3D
fairly often. Despite their pathological hatred of elves (:-P), and occasional questionable product reviews (:-P), they are a fantastic news source for what's out there in the render world
(or 3DX as they refer to it)
.
What else? Hmmm. Epoch is slaving away on his Dark Rift comic for his neat little DCV (Dynamic Comic Viewer) program. Sci-fi opera meets Serenity meets Mass Effect, plus a bunch more sex. So keep checking out
his site
for updates.... And
Erogenesis
is getting closer to Lali Bits getting released. Yay!... Both
Dizzy
and
Jomish
have some great sets out in the past couple weeks. And
ZenZen
is busting out crazy amounts of work. So check them out as well!