So it was the start of Chinese New Years yesterday. We are now in a Year of the Water Snake. Or if you wanna go by colors, the Year of the Black Snake. Which sounds really ominous, but apparently isn't that bad. Though if I had planned ahead I definitely would have made a set based on the whole idea. But planning is for chumps! ...Right? Oh well. In any case, be sure to eat lots of egg rolls, burn down your house with some fireworks, and give little kids red envelopes full of money.
Also, thought I'd share a little thing I did for another artist on how I do my lighting. Hopefully some other artistes can play around with it and come up with something even better.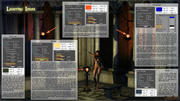 And in more pertinent news, was working on an "illustrated story" set that was probably going to be finished today or tomorrow. But doing so would have made it rather difficult to get a Valentine's Day set done in time. So had to reshuffle priorities. Expect the next set by Thursday, and another one rather shortly afterwards!