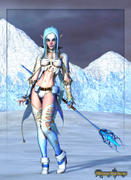 Some lighting test pics for the next set. Trying a higher ambient, with lower specularity on the main lights, and some bleed thru on the shadows. Cuz that's what you want to know, right? Not that it's the continuing adventures of the mighty Groknar. Apparently in the frozen North or somesuch this time. Nah, you want to know about the render settings. Cuz that's sexy... and stuff.
Erogenesis
And also Erogenesis has
his blog
up and running. Well actually it's been up for a few weeks now. But this is the first time I've mentioned it, so it's surely the first time you've heard of it. For I am the font of all knowledge... that's a few weeks old *cough*. In any case, he has some interesting stuff there for render-folks. Most notably his awesome Lali Bits project. And his on-going battle to get it to work. Which is a useful insight into how Poser works for those that are interested.