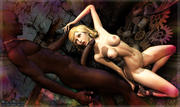 Rookie Judge Anderson gets more than she bargained with when she tries using her psi powers on a criminal.... or does she? It's 33 pics of Megacity law enforcement at it's best only available at
mongo-bongo-art.com
. And members get the set download free for next month, as always.
So a new set inspired by the latest Dredd movie. Worth checking out if you have opportunity, will help give a bit more context to the set. And it's quite a bit better than the old Stallone version. Granted that's not saying much since the Stallone one was just terribad in every possible way
(2 words - Rob Schneider)
. And you have to agree with me because "I am the Law!"
(there, managed to use it)
Segue to.... ah, fuck the segue. We'll just leave it at that.
Credits: