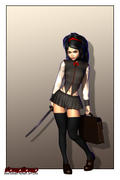 Right-o. So here's some random shit I've been playing around with for awhile. Don't think I've uploaded any of it before. If I already have I'll look kinda silly. In any case, some ideas I've had floating around in my head. Some might make it into sets. Some might not. But there is one that definitely will...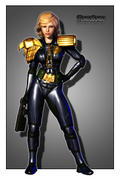 ... Judge Anderson from the recent
Dredd movie
. Never got around to seeing it when it came out, but one of you adoring fans pointed me towards it yesterday. Was actually pretty good
(as far as pew-pew movies go)
. Karl Urban was a proper Judge Dredd - he never took off his helmet. And Olivia Thirlby as Anderson was just plain yummmm! Plus a great scene where she does her Psi-thing and goes into a thug's head, and he tries to turn it around on her. And since it was such a great scene, and since the DVD of the movie is being released today, it's going to be this week's set. Oh! And it also stars
Lena Headey
, the chick from the terrible Terminator TV show, but more famously the incestuous "mother-from-hell" Lannister from
Game of Thrones
(site takes forever to load - fuck HBO)
. Which of course leads to....
... another set idea. Starring our favorite blonde bombshell model
Jenny Poussin
as the lovely Daenerys Targaryen! Cuz they are so alike. Well they are both blonde. And hot. So whatever. In any case, won't be until March-ish for this set. Cuz that's when the next season of Game of Thrones starts. And if you've somehow eeked out a pitiful existence without seeing the series, you should rectify that immediately and give some meaning to your otherwise pathetic life. Yes, it's that good. Now there is a problem... HBO sucks. Big time. They didn't put the series up on Netflix or Hulu. Which is probably why it ended up as the world's most pirated series. But that's what happens when you have an outdated business model centered on a dying media source that is all designed to fuck over the customer. Brilliant! Now if you want to legally watch the episodes
(which of course you do)
you can
buy the episodes
thru Amazon, or get the
DVD sets
. Oh! And speaking of Jenny....
...she has printed up the three Ensign Jenny sets as a comic.
"But I already have the sets! Durrrr."
Au contraire ma cherie!
(Do French Canadians even say that?)
For there is more than just the sets. Jenny has cut-up, reformatted, and added text to the images to create an actual story! And it's pretty good too. You too can get yourself a signed copy if you send her an email/dA-mail and a few dubloons
(or whatever Canadians use as money - ice chips? moose droppings?)
. Which of course leads to...
... well actually this has nothing to do with anything. It's just a test pic of a tavern. And I thought I'd include it because... okay I have no idea why I'm including it. It's a tavern. And it's there. So.... yeah.