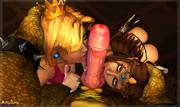 Happy New Year! Peach and Zelda are certainly having one after Bowser dealt with their boyfriends. It's 17 pics of celebratory fun at
mongo-bongo-art.com
. And members get the set download for free for the next month or so.
So congrats to Faro09 for correctly identifying our New Years party-goers! For that he has earned himself a free copy of the set... and my eternal enmity for guessing it on the very first try... within 10 minutes of me posting... Seriously, how the fuck does that happen?!
(Well by making it too easy for one dumbass!)
grrrrrr....
So yeah. In any case, remind me NOT to go crazy with reflections anymore. 6-8 hours per render. And that's AFTER I remembered to drop the transparencies and use Refraction instead.
(Poser tip - Refraction + Reflection = GOOD!, Transparency + Reflection = BAD)
Then add in having to go back and re-render pics cuz I screwed something up.... Ugh. No more... At least until I get a new computer.