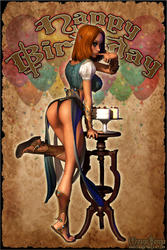 Hard to believe, but I've actually had my site running for a year now. Doesn't seem like that long ago. Been a hell of alot of work though. Have worked longer and harder than any other job. Seriously, if I were working a minimum wage job I'd be crazy rich with the amount of hours I've put into this. But wouldn't trade it for anything. Cuz I'm working for me, and loving what I'm doing. Best job EVAH!
So yeah, there's that. Ummm..... Oh! Last year I did a little blurb about movies and shit I was looking forward to. Well having seen most of them, I can say with some certainty that just about all of them sucked. Even the new Bond film wasn't that good
(in comparison to the sheer awesome that were the other ones)
. Sure it wasn't Total Recall bad. But was still missing the magic of the other Daniel Craig ones. At this rate, I might as well finish off the year with the last Twilight travesty and then swallow a bullet
(not really, I like myself too much to subject myself to Kristen Stewart)
.
Hmmm.... What else? SWTOR! It's going to be free-2-play tomorrow (Nov 15th). Whoever said that would never happen -
you can suck it!
:-P So odds are we can expect some Star Wars sets in the future. In any case, I'll certainly be playing it again. Gotta finish off my Sith Juggy storyline, and then continue the epic adventures of Captain Diggler and his pornstar mustache. So if you are on Drooga's Pleasure Barge, be sure to give me a yell or whatever.
(But no, I won't eRP with you.)
Anything else to babble about? The idea list! Durrrrrr... So yeah, some good ideas there. Power Girl is a definite - love her after reading some older DC stuff. Not sure what I'll have her paired up with, but the cop car idea was nice! April O'Neil seems kinda popular. And while I'm all for destroying peoples childhood memories, I'm strangely kinda ambivalent about her. But will bounce it around for awhile. And of course Spidey getting NTR'd again - have ideas for two more Gwen Stacey sets. Princess Peach will definitely need to make a reappearance. And Lady d'Clairmonte will be having more adventures, though she does tend to stick towards large partners with four or more legs. Some other great ideas in there too, so keep 'em cumming
(or w/e)
.