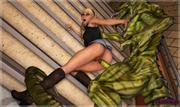 I've I always kinda liked Spider-man. Too bad he doesn't fare so well in this set. But bad guys need love too. And this time The Lizard gets some tail from Parker's girlfriend. It's 21 pics of superheroic action available only at
www.mongo-bongo-art.com
. And the set download is free for members for the next month(or so)! Excelsior!
(WTF Does that mean anyway? Or was Stan Lee just crazy and weird shit came out of his mouth whenever he opened it?)
So had some fun with this set. Tried to get a kinda old-skool comic look mixed with my Poser style. I r pleazed with the results. So thanks to Faro09 and his emo-Ulquiorra avatar. He gets a free copy of the set. Cuz that's what happens when you actually attach your name to a suggestion. Weird, huh?
Funny, but I never actually got around to seeing the Spiderman reboot. Saw that the Lizard looked... well... nothing like The Lizard. So just ended up passing on it. Was it any good?