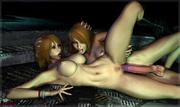 Because I always love a new terrible Resident Evil movie, we have a new RE Alice set. Really how the hell does Milla Jovovich stay so fucking hot? In any case, this time Alice goes up against the only people who could possibly beat her... herself. It's 29 pics of futanari fun at
www.mongo-bongo-art.com
. And of course, members get the set download for free for the next month-ish.
Everyone love futas! Right? Right? Lesbians with benefits, can't go wrong.... Ok, maybe not. But never done any futa stuff before, so figured I'd try. Not my particular first choice in fap material, but it's always funny to check out from time to time. And happy with how it turned out. Was an utter bitch posing all the figures and getting the lighting angles right. But the end result makes it worth it.
And if you suddenly find yourself in the mood for more 3d futanari shit, I'd highly recommend dropping by
Affect3d
and checking out the great Ayako & Sayako set
(which was a great inspiration for this set)
. And for more traditional art
(as if futa art could be considered any sort of tradition)
there are few better than that crazy russkie
Dmitrys
(though some of his stuff is just a bit too butch and/or girly-boy for my tastes)
, and of course
Legio
(again, kinda butchy at times)
, plus
Hentai Devil
(one of my faves)
, and last but not least
Innocent Dick Girls
(gotta love Priya)
. Ever notice how I apparently love to italicize stuff in parenthesis?
Credits: