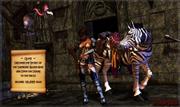 Zafo's cute little elf makes her first Mongo set appearance when she attempts to complete the Goat Demon quest. 20 pics of this pointy-eared adventuress getting pounded by a giant red demon... goat. Yeeeaahhh... Full set available at my paysite -
www.mongo-bongo-art.com
. And the set download is free for members for the next month!
So if any of you frequent Zafo's blog
(and you should)
you probably know I am madly in love with his gorgeous little elf Tera. So when the opportunity arose to do a set involving her, well I simply couldn't pass up the chance. To be honest, I think I prefer his version over mine. Cuz, well, he makes her the way she is supposed to look being his character and all. Check out his site at
www.zafo-art.blogspot.com
and compare for yourself.
So this set took a bit longer than usual. Think I will always end up bitching about that. Can never get them done soon enough. Whatever. My peeve this time is I kept on epically failing on lighting. Honestly have no fucking clue why I had so many problems with it. Was one thing after another. And it got to be pretty goddamn annoying cuz usually my lighting goes rather quickly. In the end it just required lots and lots of postwork to remedy. So we have the
original render
that got turned into
this
. And of course there was also the sidetracks I got sucked into. Take for instance the Zebra. It is in one pic, and pretty much adds nothing to the fappability of the set. How long did I spend on the Zebra? That's right, a day and a fucking half. I shall write a book -
How to Focus on Pointless Minutiae: A Guide to Epic Failure
. Unbelievable. But on the plus side it is done and has lots of pretty colors. Oh and monster sex. Some of that too.