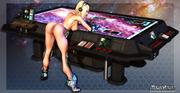 The first of a pair of Starcraft sets. Why? Well cuz I didn't want you to go without an update for too long. So we have 17 pics of the lethally sexy Nova Terra putting on a solo show. Available of course at the paysite -
www.mongo-bongo-art.com
, and members get the set download for free for the next month!
Right. So if you read the comments from the previous post you may have noticed that I ran into some problems with the Nova/Zerg set. Namely the fact that I wasn't happy with the amount of zerginess. Well I wasted a bunch of time trying to make something new, until I got over my bad self and just accepted the scene the way it was. But I didn't want y'all to have to sit around with nothing to wank to cuz I was indecisive. So I whipped up a quickie solo "filler" set. Not exactly like the Nova from the game. But hey, it's my take on her. Artistic license and all that. :-P
And I have developed a certain fondness for Nova. Not least of which is cuz she is voiced by one of my favorite voice actresses of all time. Though I am liking Kerrigan from the trailers to Heart of the Swarm too. Is actually almost making me want to pick up the game despite my distaste for RTS.
Credits:
DejaVu Hair by FK Designs (no longer in business apparently)