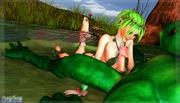 Wait. Wtf is this?! Monster sex porn in my blog? Yeah, I know LOL. In any case, ahhh... summer. A nice leisurely day of lounging by a sun-dappled pond, watching butterflies, and fucking a fairy or a frog. Or something like that. A 17 pic set this week chock full of fairy fun.
(Cue smarmy salesman voice)
And the download is free for members for the next month. All this
(and more!)
at my fairyliciously magical website -
mongo-bongo-art.com
.
So this set is all due to Epoch. Well kinda. It's summer and I wanted to do something "summery" for a set. So I was trading emails with Epoch and he keyed me in on some
great tutorials
by
Bagginsbill
. Turns out this guy knows one or two things about Poser cuz... well, he helped create it
(as Epoch pointed out, his name is right there in the opening credits)
. So anyway there were some great tips on water and I just had to try them out
(with some personal tweaks)
. Plus wanted something kinda bright, colorful, and summer-like. So we got a fairy... getting it on with a frog... in a pond. What's more summery than that?
One thing that did kill me with this set was the rendering time. Ray-traced reflections EVERYWHERE. Even on the frog's skin. Notice them? Yeah, neither did I. Total waste of rendering time there, LOL. But the rest of it looks pretty sweet if I do say so myself. And I do. Say that. ANYWAY. So each pic took like 3-5 hours to render. Which was just crazy. But do like the way the water came out. Y'all can fap to the fairy. But that water... ooohhh.... gnnnhhh!... yeeeahhh.... It's a rendering thing. :-P