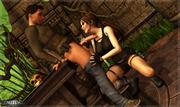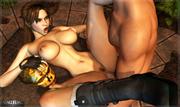 NOTE - This set is no longer available due to DMCA from Square-Enix.
What's better than a kick ass treasure hunter? Well two of them of course! Everyone's favorite big-breasted gun-slinging Tomb Raider. And that other guy. Okay okay, he deserves more than that. And that roguish cross of Indiana Jones and Brendan Fraser from The Mummy. Anyways! Lara and Nathan square off over a golden skull. 21 pics of treasure hunting fun available at my stupendously incredible website -
mongo-bongo-art.com
. And the set download is free for members for the next month. Just. Like. Always.
So had this set mostly done for the better part of two months now. Was just waiting on one thing... the final installment of
Epoch's Clara Ravens Episode 3
. Which is being released today! Now the downside is that it is being released at crazyxxx3d. And their subscription fee is... well... it's kinda ridiculously high at $40. Yes $40. Per month. Crazy indeed. BUT! The new Clara Ravens is about 180 pages in total and that in itself is worth the price. PLUS you get access to the other two episodes as well. The rest of the stuff on that site, I can personally do without. The artists are talented, but the content is just... yeah. Some of that fatty fetish stuff is just plain weird.
(Course I do monster sex porn so really who am I to judge?)
I could easily go off on another rant about the early 90's layout which well suits the early 90's porn at the "other sites" you get access to. But I shall not rant. I shall restrain myself. Instead I shall simply say that if not for Epoch's art, I would have little interest in that site.
In any case, if you wanna checkout the new Clara Ravens
(and you should - it's soooo good!)
go to
Epoch's site
and click on the link to crazyxxxblahblah in the upper left. It's kinda hard to miss, it says "Click Me" all over it. Now it is very very VERY important to subscribe via the link Epoch's blog. That way he gets a commission for it. And it's always nice to support the artist. Especially when their art is their sole form of income.
Coincidentally
Rosselito
also did some Lara pics recently. And amusingly enough, his also featured a golden skull. Seems to be a popular treasure! LOL.
Credits:
ToolGirl by BadKitteh Co (no longer available)