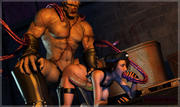 With Valentine's Day coming up
(you did remember to get something didn't you?)
, figured that I'd take up a suggestion from a couple years ago and do a Jill Valentine set. Maybe not as romantic as most V-Day evenings, but hey it's Nemesis. He's a man (zombie? scientific monstrosity?) of few words and let's his actions speak for him... or something like that. So check it out! The full set of 26 pics can be found at my paysite -
www.mongo-bongo-art.com
. You can buy the download, or just subscribe to view it.
"But why Nemesis? It's always Nemesis!"
you
whine
... err... you ask. Yes, you were asking that. Well first Nemesis is an utter badass alpha-zombie/thing, so he always gets top billing. Second
(and surely less important)
he's based on a bipedal human figure so he's much easier to create, to pose, and is more relateable for the viewer. Unlike say a
Globster
,
Ghiozzo
,
Scagdead
,
Las Plagas critter
, or any of the plethora of other Resident Evil critters out there. Not to say that I don't have other critters already created. I've actually got a respectable little stable of beasties lined up for more RE sets. But all in good time. Nemesis gets first dibs on Jill. They are a classic together. Star-crossed lovers pitted against each other by a cruel twist of fate. It's Shakespearean I tell you! Anyway, I guess that's my long-winded way of saying
"Deal with it biatch!"
. :-P On a side note, I usually HATE working with tentacles. Hate hate hate them! Most of the time they are so damn hard to pose and get right. Not to mention that most tentacles don't have enough segments so when they bend they get sharp corners instead of smooth curves. But then I stumbled on some new ones by Davo. And they actually pose from the head of the tentacle rather than the base! So posing is a hell of alot easier. Still a pain, but nowhere near as bad as before. So was very happy about that. Definitely worth buying!
Credits: