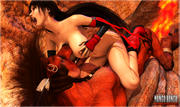 NOTE - This set is no longer available due to DMCA from Square-Enix.
EDIT - Now with new and improved downloads (actually they are just the correct price now)
Yay! The long-awaited Tifa & RedXIII is finally done! Guess our lovely Ms Lockhart prefers a touch of the animal more than she does that mopey fey douchebag Cloud :-P. Hehe. Full set of 35 pics is available at my paysite -
www.mongo-bongo-art.com
.
As much as I enjoyed making the set, I have made a New Year's resolution to never use that hair model again. Soooo many hi-rez transparency layers on top of each other. Each pic took at least two hours to render. Never again!... 'Course I could just lower the image size too. That would save time... See? Resolutions were made to be broken. Still, I don't anticipate anymore ridiculous update delays like that again. In any case, enjoy the pics!
And Iberios! Send me your e-mail address! People who contribute set ideas get the set for free.
Credits:
Tool Girl by
BadKittehCo
(weird - no longer available at DAZ)
DAZ Mil Dog Stud by ??? (freebie - can't track it down anymore)
Troll Fun-Do by ??? (the evil hair! - another unknown freebie)