Uploaded a couple sets this weekend. Oh no, no, no. Not sets by me. Definitely not that. I mean I don't do that sort of shit anymore, right? I meant sets by other artists!
First up is a set by Zen. With the continuing futa adventures of Erin & Vikki. Cuz EVERYONE loves futa. I know you do! And if you DON'T, well then you may be gay. Not that there's anything wrong with being gay. Some of the most badass warriors in history were. But if you don't like futa, you might be too. And odds are you're not a badass warrior. So you'll probably be on bottom. Just saying. So buy the set, or y'know. Anyway....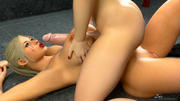 Erin has always been unsure of herself ever since the lab incident, considering her penis a nuisance, if not an outright curse in her life. This is despite the companionship and reassurance of her best friend Vikki, an open minded freshmen who accepts all of Erin, despite their unusual start in the University locker room. Enter Miss Natalie, a teacher and futa herself who, rather than teaching restraint from lust as per her nunnery upbringing, instead encourages Erin to unleash it with reckless abandon. This began with a classroom sex romp, with further sexual scenarios set up to tempt Erin further, as you are about to see. Miss Natalie's attempts to drive a wedge between her and Vikki are slowly working as Erin is seeing Vikki as less of a friend but more of an opportunity for sex, for reasons that will become clearer as Erin continues to lose herself to nymphomania. It's 77 pics of futa awesome at
mongo-bongo-art.com
. And now at a reduced LOW LOW PRICE!
*
And then next up is a set by RedRobot. With Harrow the Witch doing a bit of summoning, and getting alot more than she bargained for. With demonic critters that merge and change form taking her in every conceivable way. And it's a comic, with like actual text and story and stuff. Well as much story as needs be in pr0n. So if you're in the mood for a bit of dark meat, then check it out! It's 64 pics of sexy witch fun at
mongo-bongo-art.com
. And also keep an eye out for his revamp of The Heist, cumming soon!
*
And of course I lied. I do that alot. Cuz I'm a terrible liar, and I figure I need the practice. No seriously, I am probably the world's worst liar. The nervous twitches, the shifty eyes, the whole bit. So bad. But what did I lie about? Oh! Doing sets. Yeah, actually do have a set that I've sorta been working on. For like, forever. Some raw sample pics above. Obviously. Another Belf Warcraft set. Don't really know why. I mean nobody even plays WoW anymore. Or so I hear. Still never signed up for WoW. I know, weird. But w/e. In any case, is probably gonna end up being a HUGE set. Might even end up over 100+ pics. Cuz I play around with that instead of focusing on Game Dev shit. Haven't touched Unity in over a month! Well I've played around with it, and still browse forums learning shit and watching tutorials. But no serious work lately. Cuz I'm a slacker. And my brain has hit overload.
And also picked up a new computer last week. Nice little quad-core i7 with multi-threading. So renders about 4-5 times faster than the old one did. Which is awesome. Take for example this pic with Indirect Lighting, SSS, 6 bounce ray-traces, and Depth of Field (though it's barely noticable). Was able to burn it out overnight. So that's a huge plus. And the Belf pics which were normally restrained to one per night, I'm now able to grind out an entire batch of 5 frames a night. Awesome! Oh and as a sidenote - Windows 8.1 sucks so much ass. I don't need or want my screen to look like a phone. Just give a fucking list! Arrgh!
(It wouldn't be a proper blogpost unless I was whining like a bitch about something.)