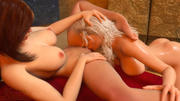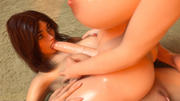 New Zen set! Available nowhere else
(for a limited time)
. It's a prequel in his Erin & Vicki futa series. With hottie redhead Erin in her early college years as an unsuspecting freshman participating in a sleep study. Only to have Dr Mackenzie's twisted "dream machine" unleash Erin's most depraved fantasies in which she is cock slammed by a monstrous futa penis and filled with gallons of cum. It's 87 pics of futa fun (that I'm sure everyone loves!) at
mongo-bongo-art.com
. And remember all sales go directly to the Zen. So buy it here and now, so he can get the most out of the purchase!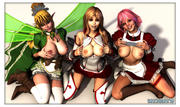 And a quick pic of the SAO girls doing a boob flash that was done by request. Well actually it was pitched as a commission idea, but since I hate commissions and liked the idea, I decided to do it for free in my spare time. Obviously they're not flashing Kirito cuz he's a douche.
In other Mongo news, still slogging away at Unity. Figuring stuff out, learning code, refining ideas. I had finally come up with an idea of a third-person RPG-type game, pulling ideas from action-oriented combat and stamina meters, without the silly tab targeting, and with the ability to actually defend, in a fantasy genre, focused on swordplay.... then I found that game already exists. It's called
Dark Souls
. Fuuuuckkk! So my brilliant idea was to create a shitty version
(and it will be shitty)
of a game that already exists. Can't even say I had something new or inventive. Le sigh. But at least it will have pr0n. And be less dark and gritty. And probably badly done. I should of just focused on making something like
Pong
. Ugh!
And can't help but mention the new season of Black Sails. Which is quite simply - incredibly awesome. Last season it was just
"oh this is kinda cool and pretty well done"
. But this season it just completely kicks ass. I think it's mostly because
(and this may come as a surprise coming from me)
they decided to do less gratuitous sex and shouting "fuck" every 5 seconds, and instead focused on the actual story. Shocking concept! Flint has somehow become even more of an unrelenting badass. The Guthrie chick becomes a believable character. Silver is even more conniving, opportunistic, and self-centered. Vane is even more... well... Vane. He was already a godlike character to begin with. Rackham and Bonny finally come into their own. and they all still have their perfect white teeth. Right. Regardless, can't recommend it enough! Of course I'm more than a bit biased liking sword & cannon pirate shit. But that's ok, because liking that is right and proper, and if you don't then there is probably something wrong with you. :-P
Last but not least, a new artist to check out -
Belaal
. Just getting started in the whole 3d pr0n thing, and starting to polish his talent. Doing the usual "nekkid chicks and fantasy stuff" thing, with some reviews and random human interest stories thrown in. Give him a look-see and some feedback to help him improve and grow!