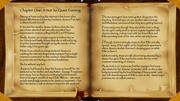 New Zen3DX set! Jessica continues to be plagued by the evil demon that stalks her. This time, with her slutty stripper sister Ellie, she is dragged into the demon world. Where both are thoroughly used and violated by their new masters. It's a 92 page story of seductively erotic horror
(with an additional 85 clean pics with no text)
at
mongo-bongo-art.com
. So check it out now!
Also, Vaesark has a
new site
all of his own! Featuring a brand new Resident Evil Jill set. With the slutty little hottie taking insertion from increasingly huge beasties. Even
(get this)
a zombie elephant! Win! So cruise on by, check it out, and give him some support!