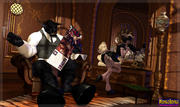 Another set of our favorite dysfunctional Warcraft family. This time with the Tauren punishing his conniving slutty Draenei Maid just the way she likes to be. It's 31 pics of grindy MMO goodness at
www.mongo-bongo-art.com
. And members get the set download for free for the next month, as always.
So a bit bummed on this set. REALLY wanted to get it done on Thursday. Finished everything but the X-Rays, but didn't quite make it. So ended up adding in the last pic as well - which was a PC killer. Seriously waaayy too many figures. But it got done. And that makes me happy. In fact it was an amazingly productive week. Had like zero piracy to deal with. Which was super awesome, and definitely appreciate. Kept me pumped and energized to jump back in and make moar pr0n! Win, win!
And in other news,
Stone-Sorceress
had it's grand opening yesterday!
"Who the fuck is that?!"
you ask? It's some of the animators that brought us Vizivius. And they do some pretty amazing stuff. You may have seen them over at Deviant Art. Well now they have their own site so they can show off their more explicit content. It's all about sexy redhead sorceress Sara and her hulking Stone Golem protecting the land by fucking monsters out of existence. Because that's how all sexy sorceresses should handle problems. So cruise by and check it out! It's good stuff!
Oh, also DAZ3D is having a
massive sale
on a bunch of it's V4/M4 stuff. So if you are being a
Luddite
like me and sticking with archaic old-skool models instead of conforming to the new world order and using Genesis... then you might wanna take a look. It's like 80% off, which is sure to make you kinda annoyed if you bought it at the normal price.
Credits:
Alice 3.0 by Aery Soul
(see Aeon Soul for similar)
Sumire Hair A3 by Yamato (seems his old DigitalBabes2.com site closed down)