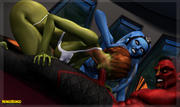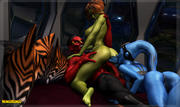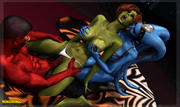 Our young Mirialan Jedi now faces her most dangerous challenge. Captured by the Empire she is taken to a Sith Lord's Star Destroyer with the intent on turning her to the Dark Side. Can she resist the temptations of her own passions?! *cue dramatic music* It's 34 pics of SWTOR space-opera at
mongo-bongo-art.com
. Members get the set download for free for next month-ish, cuz they know the power of the Dark Side.
So yay! New set. And store is finally working again! So looks like it is gonna be an HTML fun-day. That's sarcasm by the way. There is rarely anything fun about copy-pasta-ing code. But everything should be kosher by the end of the day. Which will reduce the stress quite a bit. And we like that.
And obligatory
SWTOR
news. Cuz I'm using their world, it's only right that I give them some advertising. Looks like they have their spaceship PvP thing working. Re-live the old-skool glory days of
Tie-Fighter
! ...I guess. No idea if it's any good. Haven't played SWTOR in quite awhile. So if you know, leave a comment!
Short Style Hair by Zygote (apparently no longer available from DAZ)