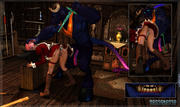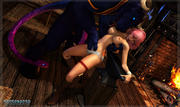 Welcome back to everyone's favorite MMO deathgame,
Sword
MongoBongo Art Online. After taming Asuna, Gleam Eyes heads down to the 48th level to visit Lisbeth. It's 39 pics of gaming griefing at
mongo-bongo-art.com
. Members of course get the set download free for next month or so.
Moar SAO! Why? Cuz I like it. Have no idea WTF is going on in this set? Go
watch the aime
. Anyway it's another set that is a testament to my inability to control the constant need to "just add a little bit more". Sigh. Oh well. On to the next set! A bit of sci-fi SWTOR before we get to Mynxie.