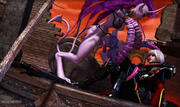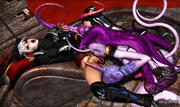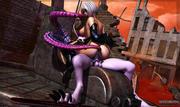 In the dark grim future of the Imperium of Mankind, the Adepta Sororitas battle against the forces of Chaos on a Daemonworld. A lone Battle sister faces off with a vile Daemonette with predictable results. It's 31 pics of strategic table-top gaming fun at
www.mongo-bongo-art.com
. With site members getting the set download free for the next month(-ish).
In celebration of the
new Adepta Sororitas codex
being released a week or so ago, we have a Sister of Battle inspired set. Been wanting to do one of these FOREVER. Finally got around to it. Amusingly enough, I've never really played WH40K. But played tons of Dawn of War. Lurve my Battle Sisters.
So rather proud of something in this set. Poser has a built-in Depth Cue fog effect. Basically the farther away things are, the more covered they are in fog. Which is cool. Except that it goes in every direction. Up, down, sideways, etc. So if you want your background trees covered in fog, your sky is going to be too. Which sucks. But after much testing, tweaking, searching, and experimenting, I found a way to keep the effect constrained in height. So trees can be shrouded in fog while the sky is still bright and clear. Very cool. Still has the downside of the fog not interacting with light or showing up in reflections. But take what you can get. Trade-off is that it does render quick, and that's always a plus.
Oh! And in other news, Google Checkout... Wallet... whatever it's calling itself these days... it's being discontinued this month. Not sure why. Maybe it wasn't profitable enough, or they couldn't compete with Paypal, or maybe they just thought it was too much risk. Whatever the reason they've been planning it
(and reminding me incessantly)
since the beginning of the year. In any case, they are closing down shop on the 20th. But not to worry, there are other card processors already set up. So don't be surprised when the payment screen looks slightly different.