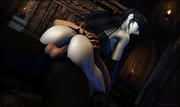 It's Halloween! Which means Vampire chick getting plowed. Yes, that is the historical basis of Halloween. Go look it up! This week's set is 29 pics of priest-seducing hard-staking action at
www.mongo-bongo-art.com
. And
(as always)
the set download free for members for the next month or so.
Vampire set. Yay! I should do more sets with her. Hmm... What else to say about this set? Not much. Other than being a dark moody set which is always a bitch to doing lighting for. Otherwise pretty standard. Wanted to do some other sidestory pics of the Vampire Hunters, but didn't have time. Will hopefully be able to render some up in spare time. LOL. I made a funny. "Free time". *sigh*
And in other news,
Haneto's Arche.01
was released the other day over at Affect3d. And it is fucking gooooood! Definitely worth the $10. Keep in mind though, Haneto does this thing where he focuses on the beauty of the female form and stuff, which technical experts refer to as "Ert". No wait... I am being told the correct pronunciation is "Art". So yes, this Haneto person is an artiste, not some filthy pornographer like other people who we shall not name (me). So not much in the way of hardcore penetration shots, but still plenty of sex! So you will definitely be able to get your fap on. The characters that are very reminiscent of Final Fantasy / Square Enix stuff - he is Japanese after all. And he's using Octane so his renders are super crisp - looks like stills pulled from a top-grade game scene. So, go buy it!
Credits:
Alrisha Hair by
propschick
(no longer available it seems)