The continuing adventures of Ensign Jenny... Investigating a dark derelict Orion slave ship. You know how it ends. It's 24 pics of spooky ghosty space opera available only at -
www.mongo-bongo-art.com
. And the set download is free for members for the next month (or thereabouts).
Wow. Volumetric light sucks ass. 48 hour render. Yes. Forty-eight. Two days. The result? No better than I could have postworked in far less time. And here I had been hoping for really cool effects like shadows from the chains and shit. Nope. Oh well. Live and learn. In any case, I went crazy with reverse ambient occlusion and refraction/ambient in this set. Had far too much fun with it. And pleased with the result, if I do say so myself. But then Jenny sets are ALWAYS fun. And Ensign Jenny is based on our favorite blonde bombshell, the incredibly sexxxy Jenny Poussin! So be sure to drop by her
DeviantArt page
and see what she's up to.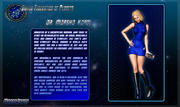 And also did up some character sheets for the Ensign Jenny cast. Something I've been meaning to do FOREVER. And they're free! You can go to my website and download them in the free download section. But I realize that's too much effort - so here's a handy
link for the download
.
Credits: