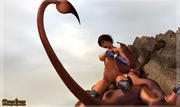 Everyone's favorite slutty knight Lady D'Clairmonte embarks on yet another ill-fated quest. This time to
be ravished
defeat the dreaded Manticore. It's 37 pics chivalrous knightly romance and Arthurian legend at
mongo-bongo-art.com
. And members get knighted with a free download of the set for the next month-ish.
Yay! Finally finished with another quick 20-pic set... Oh wait. It's like twice that and nowhere near as quick as I was hoping. Sigh. But at least the Manticore fur came out nice. Rather proud of that. And the veins. Came out well too.
And in other goings-on in the 3d world. Epoch has a super awesome donation rally going on to get some cash to buy some new hardware and continue making his awesome kickass stuff. But it's been stuck about $300 short for the past week. So I call upon you my fanatical minions to go forth and
donate to his worthy cause
. If everyone donates a buck, then he will be set. Or donate more if you are awesome. And if you are like me and blacklisted from ever using Paypal
(or you just think they are the worst company in the world and refuse to use them)
you can always buy a comic from his store.
Also any reason to continue living ended a few Sundays ago with the last episode of Breaking Bad. Though in reality, it pretty much ended when Gus got killed off last season
(oh spoiler lol)
. But still the show struggled on without him, and kept us entertained until it's rather satisfactory conclusion. However it left an open gaping wound in Sunday nights that will never ever be filled.... Until this Sunday with new season of Walking Dead. Joyous days! \o/ ... Just had to share that.