Ok, so I hate wolves. I hate wolves the way that a rancher hates wolves. I hate them the way a lost hiker hates wolves. If I could kill every last wolf on earth and rub the corpses in the face of every douchebag that thinks they are wonderfully beautiful or that they are some sort of bullshit spirit animal, I would be the happiest man ever. Seriously. Fuck Wolves. Fuck them in the ass! Well not literally. That would be sick. But wolves fucking a hot chick, that would be hot... Yeah... That's not hypocritical or fucked up at all, and I certainly don't need psychiatric help. Well whatever. Point is, wolves suck. If they could just be like a hairless Chihuahua or something, they'd be fine. But they aren't. They are all furry and shit, which makes them a pain in the ass to render. Clocked a new record - 10 hour render... Fuck wolves. It's their fault, definitely not my substandard computer's.
But haven't been lazy with my free time. Got some work done on the next set. 2nd laptop is a plus. Amusingly enough next set might even be all posed up by the time the FUCKING WOLVES finish rendering. God I hate them. If you have Tomb Raider 2013, please go shoot every goddamn wolf in the game in the head. Repeatedly. Right. In any case, got the Zergling, Kerrigan, and some scenery done. So some pics for your enjoyment.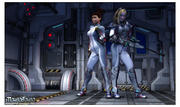 And also some random rocker chick I was playing around with. Not really sure what I would use her for though. Ideas?
EDIT - And on a sidenote, Blueberry RedBull isn't very good
(currently suffering thru a can of it)
. Much prefer the Cranberry.